"Badia a Coltibuono"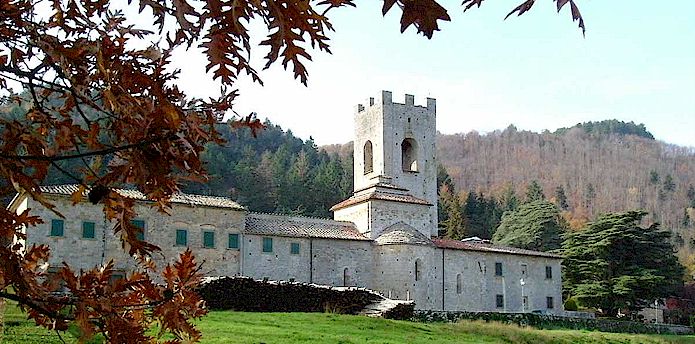 Badia a Coltibuono is a former monastery located in the Chianti, Italy wine zone of Tuscany, Italy, near the town of Gaiole in Chianti. Badia a Coltibuono monastery was founded in 1051 and was owned by the Vallumbrosan order of Benedictine monks until 1810. A great many important manuscripts and deeds were housed here for hundreds of years, making first mention of many of the towns, castles and villas of the Chianti area. These documents are now in the archives in Florence. In the 15 C, the "Buon Raccolto" ("Good harvest") Abbey ("Abbazia" or "Badia" in Italian) was extensively developed under the patronage of Lorenzo dei Medici. It was subsequently transformed into a farmhouse-villa, and has retained its agricultural function ever since. The abbey garden, which has been radically restored in recent decades, is laid out in the form of the ancient hortus conclusus, or "enclosed garden", with geometrical box hedge divisions around beds planted with aromatic and medicinal plants, and is an important early example of a "Tuscan garden", and as a monastic garden it precedes even the Renaissance villa gardens. The rectangular pool at the centre of the garden and the paving flags are pietra serena. Some of the outer walks are adorned with long pergolas draped with vines. The impressive Lebanese cedar that stands next to the abbey is 20 m tall and has a trunk with a circumference of 7 m. It is listed in the Italian Forestry Commission's census of monumental trees of Tuscany. The property is surrounded by large white fir trees, the result of reforestation work carried out by the monks, which was then continued in the 19 C. The current owners, the Stucchi-Prinetti family, have excelled in publicising their wine and other agricultural products, not least via the successful publications of Lorenza de Medici, wife of Piero Stucchi-Prinetti, on Tuscan cookery. The abbey is one of the attractions featured in the Strada dei Castelli del Chianti (Chianti castles route) tourist promotion of Gaiole, and the abbey church and gardens may be visited as part of a local guided tour and the property houses a well-know restaurant. Both are worth a visit.
"Visions of Italy" DVD set

This DVD set has the full PBS TV mainly-aerial footage plus an additional hour of material.

Highly recommended to anyone who is thinking of going to Italy, or just wants to relive the splendour of the Italian landscape.

Click here for full details
The italianate garden at Badia a Coltibuono
(click the pictures for a larger view)
Badia a Coltibuono © ammonet InfoTech 2005 - 2012. All rights reserved.